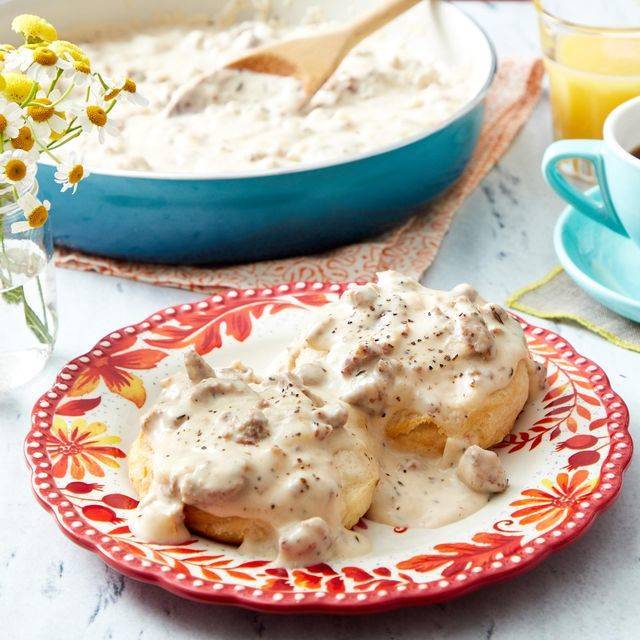 Sausage gravy is, hands down, one of the to make over and over again! It's a welcome kick-off to any weekend morning when hearty fare is desired, but it's especially splendid for special occasions like . A piping hot smothered in sausage gravy will be better than anything under the . Bonus: It'll keep everyone full until is ready! 
What is sausage gravy made of?
This breakfast gravy is super simple and can be made on the fly. All it takes is breakfast sausage, a little diced onion, flour to thicken it up, and milk. A sprinkle of salt, pepper, and dried herbs punch up the flavor. 
What's the best way to serve sausage gravy?
Spooning gravy over biscuits is a no-brainer, but you can also top a gravy-drenched biscuit with a fried or for an even heartier breakfast bite. Of course, gravy is delicious drizzled on fried chicken-stuffed biscuits and servings of , too. It makes any breakfast dish that much more crave-worthy!
What is the difference between sausage gravy and country gravy?
Sausage gravy and country gravy are very similar milk-based gravies, thickened with a flour-based roux, and loaded with black pepper. The main difference is that country gravy does not have sausage. Country gravy uses butter to make its roux, while sausage gravy uses the rendered fat from the meat, cooked with flour, to thicken the gravy. Check out Ree Drummond's recipe for country gravy which she serves alongside .
Can I make gravy with sausage patties? 
Yes! Using sausage patties is another great way to make sausage gravy. As Ree Drummond explains, "I fry sausage patties and remove them from the skillet before making the gravy and serving the two components separately." If the sausage patties you have on hand are raw sausage, you also can pinch small pieces from them and cook the gravy as directed in this recipe. 
What else can I use in sausage gravy?
Sausage gravy can be as simple or "fancy" as you'd like to make it. Substitute any kind of sausage—hot, mild, sweetened with apple or maple, or even try it with chorizo for a spicy twist. Chopped fresh onion or garlic add more savory notes, while dried or fresh herbs give the gravy hints of freshness. This recipe calls for dried herbs, but if you have fresh herbs like sage or thyme around, use 2 teaspoons chopped, instead of 1 teaspoon dried.