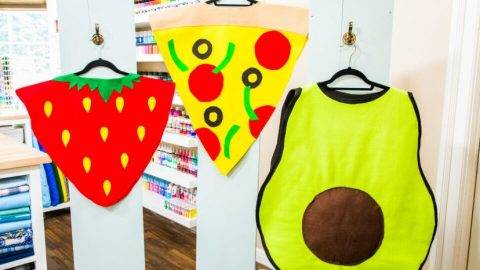 Halloween is almost upon us and if you haven't decided on a costume or concept for your children or yourself yet, then check out this DIY project by Orly Shani via on YouTube now, and choose which one you'd love to try making the most. These costume ideas are very easy to prepare, require no sewing, and are super funny and adorable, too! I'm sure you'll enjoy this year's Halloween party or trick-or-treat with these food-themed costumes made out of only felt fabric. Read the written instructions below to learn how and while you're at it watch the video tutorial as well.
Step 1
Get a t-shirt that fits the child, then measure the length of the shoulder down to the hem making sure to add a couple of inches for allowance, and cut the felt fabric to that length and width. Fold the felt into fourths, then cut out the folded corner curved for the neck hole, make sure to cut it a bit wider, and then cut out the side into the desired shape.
Step 2
Place a folded green fabric underneath the red cut fabric, then cut the green fabric the same as the neck hole, and cut the edges about an inch or more from the neckline of the green fabric as shown in the video. Cut out seed shapes from the yellow fabric, then glue them together to complete the strawberry costume, and glue black fabric along the edges if you want.