Toss This Collard Green Salad With Black Eyed Peas and Crisp Fried Onions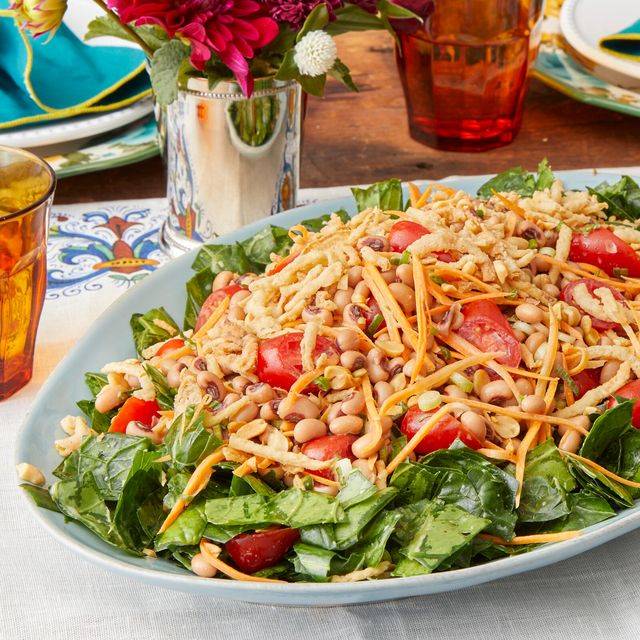 Danielle Daly
Get ready to redefine how you enjoy your hearty greens, and whip up this collard green salad with marinated black eyed peas! While succulently smokey are a beloved , this massaged salad delivers on flavor without the hours of braising. It can double as a filling lunch or a , and is full of  staples that promise a year full of health and wealth! Topped with crispy fried onions and a sprinkling of crunchy peanuts, this scrumptious black eyed pea and collard green salad is the perfect dish to ring in January 1st. Just don't forget to serve it with other like  and skillet of  to ensure your luckiest year yet!
Can you eat raw collard greens?
Although they are commonly served cooked, collard greens are perfectly safe when consumed raw. A close cousin to hearty kale, collard greens are great in a salad when chopped up and massaged. A good rubdown of salt, fat, and acid are all the greens need to soften up and lose their slightly bitter taste. These collard greens are massaged with the tangy buttermilk dressing, red wine vinegar, and salt.
Do you need to soak collard greens?
It depends on which greens you buy. This recipe can be made with about 1 pound or 12 cups of bagged prepared collard greens. They can be picked through for stems, rinsed, and thoroughly dried before proceeding with the recipe. If you are using 1 bunch of collard greens (about 2 ½ pounds), though, they will take more preparation. Strip the greens from the thick stems and submerge the leaves in water. Because these greens are notorious for clinging to sand and soil, they will need to be thoroughly rinsed and soaked for about 15 minutes to remove dirt. Some people even add a few splashes of vinegar to the soaking liquid to ensure their greens are spotless! After they are rolled up and thinly sliced, thoroughly dry them with a clean kitchen towel or with a run through a salad spinner. These greens should be as dry as possible before they are massaged with dressing.
Can you make collard green salad in advance?
Because the collard greens are so hearty and black eyed peas and onions love marinating in dressing, this salad can be made and dressed one day in advance. Do not sprinkle the salad with the peanuts or fried onions until right before serving so that they are still irresistibly crispy and crunchy.