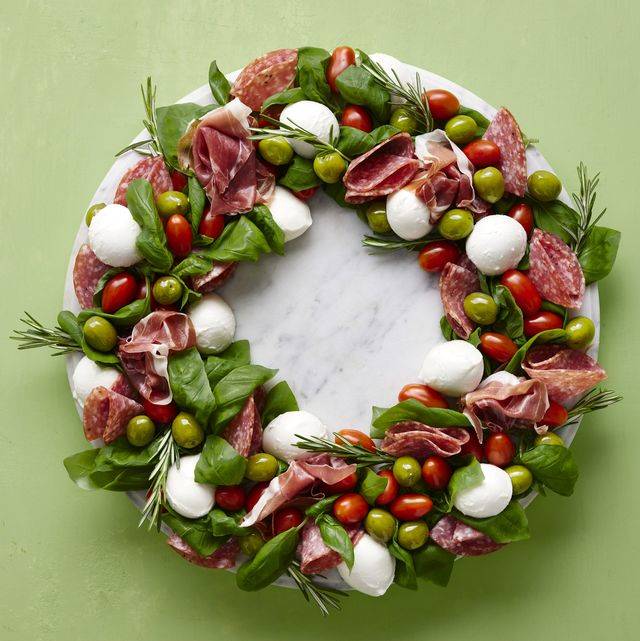 Ryan Liebe
It's time to deck the halls with... charcuterie!
We all know that a gorgeous can turn any get-together into a festive party, so it only makes sense to whip one when it comes time for holiday entertaining. Just think how pretty this Christmas charcuterie board will look with all of your . Of course, it makes for a tasty before your big family dinner, but it's also a fun addition to your cozy or even a savory option for your holiday .
The best part? It's so simple to make! Just follow the three easy steps below for this beautiful Christmas wreath charcuterie board. You can customize to your crowd's liking... just grab a round board and your favorite meats and bite-sized cheeses and start arranging! Fresh herbs will act as the greenery and you can include fruits, nuts, and veggies to mimic ornaments. You'll impress your guests and add a bit of holiday magic to just about any party of the season. Don't forget to serve it up with your favorite !
What goes into a Christmas charcuterie board?
Christmas charcuterie boards can come in all shapes and sizes. We love the way this holiday version is shaped like a Christmas wreath. You can get creative with the ingredients based on what you like best, but there are a few simple ways we made this charcuterie wreath shine:
Start with leafy greens: Fresh herbs, like basil and rosemary, will act as the base for this holiday board. Simply arrange them in a circle on a large platter.
Add cheese: Bocconcini (which are small mozzarella balls) will look like pretty white ornaments on your edible wreath. You can also use cubes of mozzarella or even cubes of your favorite cheese, if you prefer.
Use red and green elements: To give the wreath its festive Christmas colors, add red cherry tomatoes and green olives scattered on top. Other options include sweet cherry peppers, nuts, fresh figs, or red and green grapes. 
Don't forget the meat: Sliced meats, like salami and prosciutto, are folded up and tucked into the green parts of the wreath.
Can you use any board for charcuterie?
Sure! Any sort of serving piece will work for charcuterie. Just gauge the size by the number of folks you're making it for. If you want it to have a wreath look, though, stick with a round piece. You can use a cutting board, serving platter, or even a big plate to display the charcuterie. 
What cold meats go on a charcuterie board? 
It's best to use sliced deli meats or cured meats that can be thinly sliced for this wreath-shaped charcuterie board. That way, you can fold up the meat into little bunches to tuck into the "greens." Look for cold meats like prosciutto, hard salami, pepperoni, mortadella, or serrano ham. 
How long should a charcuterie board sit out?
You shouldn't leave this board sitting out for more than 2 hours. A few hours should be plenty of time for your hungry guests to gobble it up, but if there's some left, wrap the whole board in plastic wrap, or toss the leftovers into an airtight container and store in the fridge.