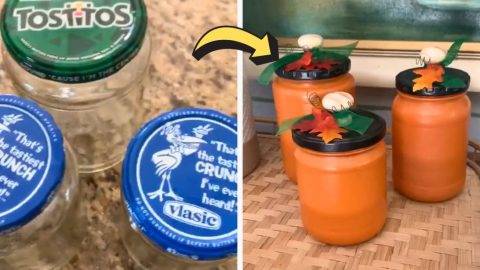 Searching for easy and budget-friendly fall or Halloween decorations? Look no more, as you are on the right page! Grab the glass jars on your cabinet, as you will be using them for this project, along with some spray paints and some scraps you have at home. If you have some pickle or dip jars that are almost empty, do not throw them out and use them for this DIY instead. These are very easy to make – you can finish them in just a few minutes. You can use these as decorations and storage at the same time. You can even place battery-operated candles inside to make them glow at night! They are perfect for your side tables or center tables.
TikToker shared a video on TikTok showing how she upcycled glass jars into these gorgeous pumpkins for this fall season. It received about 209K views as of writing and got tons of likes and comments from users.
She started the video with the caption, "Grab those jars before the recycling goes out!." To start the project, she grabbed a carton box, placed it outside, and put the jars without the lid inside. She spray-painted the glasses orange and the lids metallic brown.
Once they were dried, she placed the lids back and glued the stem. She used drawer knobs, but if you don't have them, she suggests you use sticks, wine corks, or wood scraps. Next, she got a small piece of ribbon and tied it to the stem. After that, she got a floral wire and wrapped the middle to the stem, then curled the ends using a pencil.
For finishing touches, she glued autumn leaves, and it's done! How easy is that? The good thing about this is that it doesn't rot, and you can save them for next year.