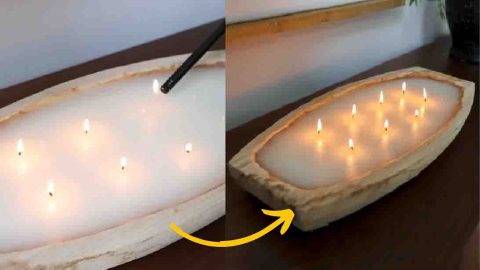 Candles could really add cozy vibes to your space, like this DIY dough bowl candle from on TikTok. This DIY is one of the perfect Fall decorations you can make this year; it will surely complete the cozy vibe of your space. I also like how easy this is to do and how inexpensive the materials are. In fact, you will only need three materials for this. Cool, right? Start making one today! Watch the video tutorial below to learn the step by step instructions. Thanks to for this fantastic DIY tutorial.
TikTok user started off the project by melting the candle wax in a pot. Once melted, she immediately transferred it to the dough bowl. Next, she then placed the little candles in the wax in two rows.
After this, she let the wax harden, then it was finally time to light up the candle bowl!
How pretty this DIY candle is? It's the perfect addition to your Fall decor this year that will surely add a cozy vibe wherever you place it in your house. I will surely make a couple of these and place one in the living room and one in my bedroom. Thanks for this gorgeous DIY!