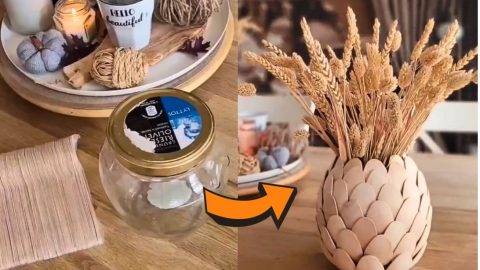 Fall is such a beautiful season. It reminds me of so many things, like family and holidays. What's not to love about this time of the year? Temperature is dropping, and the colors of the leaves are changing. That's why I love to decorate my house with fall decorations for a warm and cozy atmosphere. You don't need to buy those expensive items from the stores as you can DIY them at home – just like this beautiful vase made from wooden spoons. Small decorative pieces will make a big difference to your space!
Tiktoker shared a video on the platform showing how she made a high-end-looking vase using wooden spoons. It received tons of likes and comments from different users. As of writing, it has about 2.1 million views.
This project by bibislinving only requires four simple materials – wooden spoons, glass containers, sharp scissors, and hot glue.
First, she cut the handle of the wooden spoons leaving a very small tip to the end of each one. Make sure to use sharp scissors when cutting the spoons.
Once the spoons were cut, she glued them to the glass. She added hot glue to the bottom tip of each one and glued it to the glass, starting from the top. The first layer should cover the rim of the glass. For the next layer, she glued the spoons in between the spoons on the first layer to create a pattern. She then repeated the process all the way to the bottom, fully covering the glass.
For finishing touches, she placed dried flowers in the vase.
How gorgeous is this piece? It definitely looks high-end. Would you even think it's made out of wooden spoons? People will surely think it's expensive and branded!