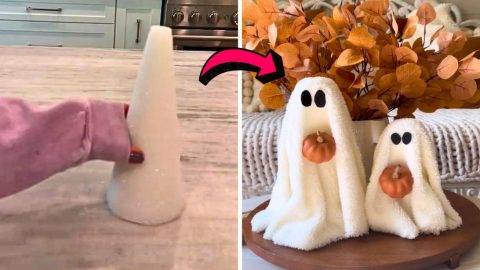 Are you the kind of person who wants to celebrate Halloween but doesn't like spooky decorations? You're not alone! I still want the pieces I'll choose to match my fall decorations. I prefer the orange and white colors to keep my house warm and cozy. There are tons of DIY decorations that you can find online. My absolute favorite project by far is this little ghost holding a small pumpkin! Isn't this the most adorable decoration you have ever seen? It's super easy to make – you can finish it in just 5 minutes.
TikToker shared a video on the platform showing how she made these cute little ghosts with just a few items. It has 273K views as of writing and received a lot of likes and positive comments from users.
How to Make Cute Mini Sherpa Ghosts DIY
You just need a few materials for this simple Halloween project. She used cone styrofoam, black self-adhesive felt sheets, polyester fleece sherpa fabric, small and medium-sized pumpkins, hot glue, a wooden round tray, and an autumn eucalyptus artificial tree in a vase.
Ashley started by cutting the tip of the cones and making it flat. She then glued medium-sized pumpkins on the top of each cone. Next, she cut a piece of the sherpa fleece fabric and used it to cover the pumpkin and cone. The size she used was big enough to touch the surface.
She then cut two small ovals from the black self-adhesive felt sheets and glued them to the head of the ghost. After that, she grabbed the small pumpkin and glued it to the sides of the fleece so it would look like it was holding the pumpkin.
For finishing touches, she placed the ghost on a round wooden tray and placed the autumn eucalyptus in a vase behind it.