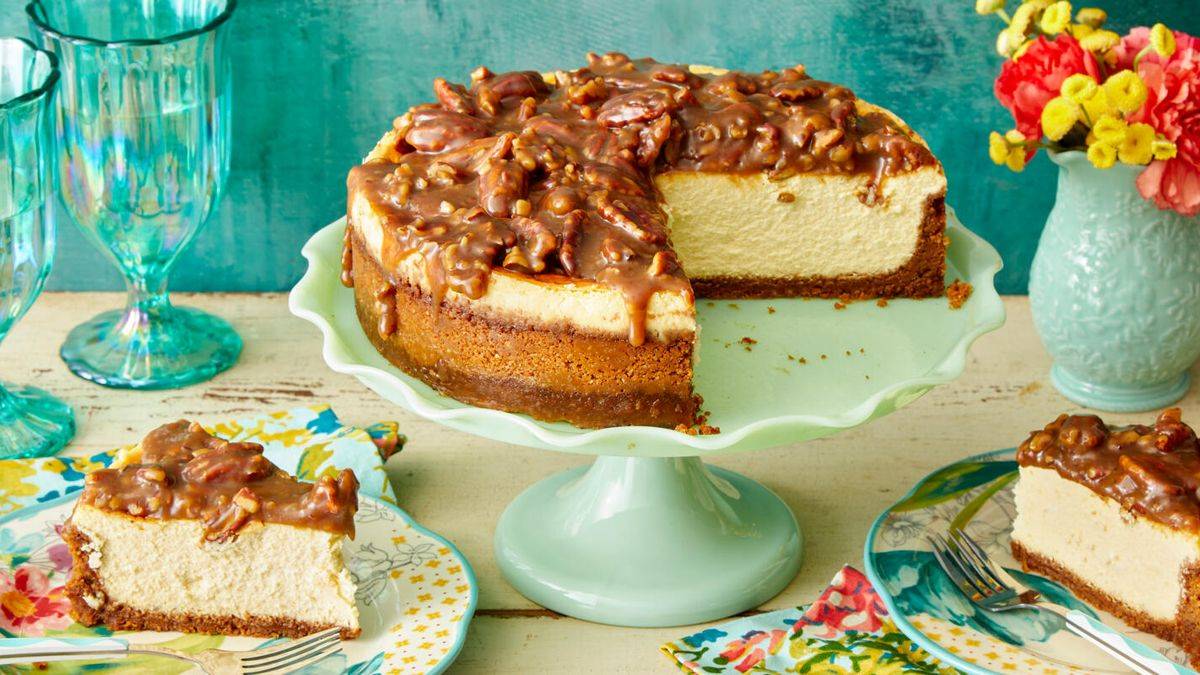 This pecan pie cheesecake is a delightful fusion of crunchy, caramel and light vanilla bean . But this cheesecake is not only delicious, it is also a visual stunner! The shiny, sugary-sweet pecan pie topping yields to a subtly tangy, supremely fluffy cheesecake that's encased in a speculaas cookie and pecan crust. This will please staunch traditional pie lovers and confectionary thrill-seekers alike. The genius mashup can also be enjoyed year-round because this crunchy caramel-coated  is too good to make just once a year! 
What is a pecan pie cheesecake?
This cheesecake recipe is divided into three parts, making it easy to whip up the day before any holiday party. The warm speculaas cookie and pecan crust bakes up in no time. Then, whip up the vanilla bean cheesecake filling and pour it into the prepared crust. Have a roasting pan with hot water ready to receive the well-wrapped cheesecake and bake. Then, give the cheesecake a chance to chill and set up overnight. The next day, make a simple stovetop caramel sauce for the pecan topping. Spoon and spread the "pecan pie filling" on top of the chilled cheesecake and viola! A memorable and beautiful dessert sure to amaze and delight at any event.
What is the quickest way to soften cream cheese?
For the smoothest, fluffiest cheesecake, softened cream cheese is essential. It is equally important to have room temperature ingredients—adding a bunch of cold eggs to that beaten cream cheese will cause it to clump! If you're short on time or forgot to set the cream cheese out to soften, read up on some nifty ways to .